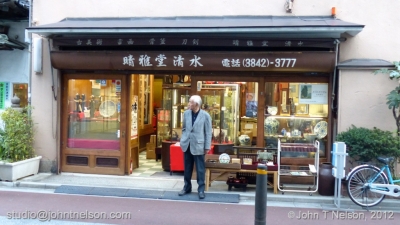 John returns to Asakusa to keep his appointment with the antique dealer, and continue his hunt for kanzashi and souvenirs for his friends.
12:00noon JST
Today I take the somewhat less complex subway route from Monzen Nakacho to Asakusa using the Oedo and Ginza lines, landing me on the doorstep of Senso-ji temple, the Kaminarimon Gate and Nakamise-dori. Nakamise shopping stalls carry a variety of souvenirs and giftables but you have to be careful, much of the time the prices here are inflated. I'm not one to buy souvenir chopsticks or fans, but I did find some excellent chopstick sets with tortoise, rabbit, phoenix and koi motifs.
I walk passed the five story pagoda, the Senso-ji main hall and the subsidiary temples on the grounds, to the appointment-only antique dealer and am greeted with an azuki bean filled pastry accompanied by a bowl of real, traditional matcha. Being ever so slightly aware of tea etiquette, I thank them, admire the bowl (a rough oribe-ware style bowl), turn the bowl 180 degrees and drink the matcha in the proper way. Yeah, that should be sufficient to convince them I'm not a total animal.
They ask me to be patient while the owner collects the kanzashi pieces and presents them to me. They are wonderful antiques, but the price for the kushi and kogai set is just too high for the ultimate owner of these pieces and again I have to decline. They're worth the price too because these pieces are 100 years old and feature real gold dust maki-e work.
4:30pm JST
Twilight descends and the videography of the Sensoji temple complex continues. Trees, bridges, statuary, temples, woodwork, this is a visually rich environment as is all of Japan. Problem is there are dozens of photographers and tourists with cell phone cameras all with the same idea. Just who let all these people onto my film set?
I notice one of the stalls on Nakamise Dori sells bridal accouterment so I ask the owner of this store if they sell kanzashi… and she trots out the very thing I'm looking for, kogai style kanzashi made with wood and kushi with elaborate decorations. The prices aren't outrageous either, although a tad higher than in Kyoto. The icing on the cake is a kogai and kushi matched set, very nice but I think the ultimate owner of what I buy will prefer the separates I've selected.
The owner of the store is amused by my Doraemon cell phone cover and impressed by my knowledge of such historical characters as Mito Komon. "You know a lot about Japan," she exclaims! No, I just watch a lot of television 🙂
5:00pm JST
The sun has set as I stroll passed more vendor stalls full of toys, temple goods, maneki neko, hina dolls (yes collectable hina dolls), kimono, happi and jinbei. The tiger and dragon happi coat looks sharp on me in black and gold but the fit isn't quite right. I would like a set of jinbei for those hot summers, though…
http://en.wikipedia.org/wiki/Jinbei
I retrace my steps on the Ginza line to the Tozai line and back to Monzen Nakacho. Oedo line would have been a somewhat shorter ride.
6:45pm JST
I meet Andrew at Mos Burger for dinner and then we do a snacks run to Akafudado where I pick up a tube of "Dental Cream" and a bag of pastries for Y350. It's anime and pastries before bed tonight!