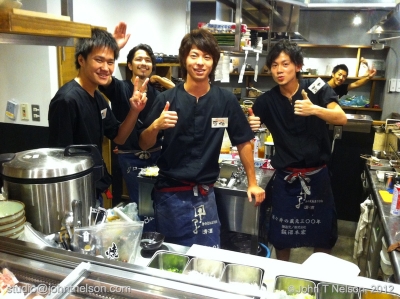 As my flight approaches Narita Airport, I can see Tokyo Sky Tree looming in the distance! That thing must be utterly huge if you can see it all the way to Narita Airport in Chiba Prefecture! I breeze through declarations and customs because I'm organized and squeaky clean, and magically my luggage appears before me as I reach baggage claim.
Ahhhh, Narita Airport, looks the same as the way I left it. You'd think someone would have cleaned up that mess by now. I ask at transit information where to find the Keisei bus, but the next Keisei bus leaves in an hour so I opt for the Keisei line train to Narita (the town). Downstairs to the trains and thanks to a friend I have a convenient Suica card to get me on the Keisei Main Line train quickly and to the station hotel safe and sound.
After that grueling 14 hour flight, I just want water and dinner. The cat is on the prowl in Narita and enjoying a walk in the streets under the luminescent violet hues of the sunset, also made somewhat magical by the rain clouds lofting overhead. The town smells like Japan, sounds like Japan, feels like Japan. It's good to be back.
Wandering the streets of Narita, I've found the 24 hour Lawson's, the 24 hour Family Mart and a street lined with stone animals that are either the guardian deities of the streets or geomancy animals that control the feng shui of the town's arcade district: first rabbit, then lion and then horse and many many more.
Enjoyed my first meal on Japanese soil at "Sumibi No Utori", a local yakitori bar featuring beer, yakitori and izakaya theatre…
On the way back to the hotel, I stopped by the Family Mart and picked up an Imuraya green tea/azuka bean ice cream bar and bottle of Pocari Sweat and then relax with some Japanese television and snacks. The ice cream bar was sublime. The Pocari Sweat hasn't changed. That HD programming, by the way, comes to you courtesy of Sky Tree's line of sight to Narita!