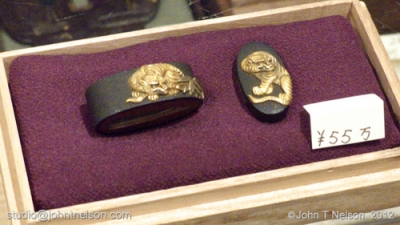 11:30am JST
Getting a late start this afternoon, so much so that housekeeping is pushing me out to get their job done. Think I'll visit the Gion district, famous as Kyoto's last old world enclave of geico, maiko, tea houses and antique dealers. Gion is conveniently located just Northeast of my hotel, allowing me to take the City Bus part of the way to Kawaramachi-Shijo and then walking East towards the river on Shijo-dori.
12:00noon JST
I haven't eaten yet so I stop by the Matsuya shop just before crossing the river. Matsuya is a major restaurant chain serving beef bowl, donburi and curry dishes using a food "kippu" machine. I'm ordering the beef strips on rice with miso soup.
12:20pm JST
Oishii desu yo!
1:00pm JST
I've arrived at the Shijo-dori bridge and, despite the cloudy weather and the incipient rain, I have a lovely view of the Kamogawa to photograph. Crossing I find myself at the Keihan-Sanjo train station and the gateway to Gion!
1:30pm JST
I find the statue of legendary samurai Hikokuro Takayama, stop briefly to take his picture (I'm sure he won't mind) and head towards Nawate-dori and the center of Gion. Gion is hard to miss, frankly, there's signage everywhere reminding you of where to find this charming unspoiled section of town.
I walk along Nawate Street, peeking into antique shops along the way. This is pretty high end stuff which I really can't afford to buy. One shop stocks real period pieces including hilts and parts from ancient katana. I found an exquisite pair of "seppa" sporting rampant tiger motifs in gold, but they also cost Y55万円, or Y550,000. As you might imagine that's also a lot in American dollars. In fact most prices in these shops start with multiples of 万円 or Y10,000.
2:00pm JST
Turning left onto Shinmonzen-dori we find Edo period tea houses, once used by maiko and geico to entertain guests, preserved in their original state. I turn right and follow a narrow back street until I come to a Shinto shrine at the interseciton of Shinbashi-dori and Shirakawa-minami-dori. This part of town has been preserved as a little piece of Edo with its willow lined streets following the Shirakawa river though a town.
Walking further South we are suddenly plunged back into the 21st century at Shijo-dori, the big commercial street with souvenirs and things to buy galore.
3:30pm JST
Time to head back to Kawaramchi-Sanjo for something to eat. By this time, my dogs are barking and I don't want to get caught in a sudden downpour, so instead of crossing the river on foot, I head to the local bus terminal near Keihan-Sanjo station. Might as well take the bus, I have a City Bus pass!
4:00pm JST
The return trip is shorter than the wait for the bus and so short I don't really have time to sit down. I arrive at the Kawaramachi-Sanjo stop in less than five minutes.
4:25pm JST
Started buying stuff, before I have to leave town on Saturday. First purchases: a pair of lovely soy sauce dishes in the shape of fugu and a pair of chopstick holders in the shape of colorful koi, both from a folk crafts place. Fans and chopsticks are notoriously overpriced at these arcades.
4:30pm JST
Found the most wonderful furoshiki of all time in one of the street stores. Made the entire day worth it.
4:49 JST
Need to get off my feet and imbibe liquid refreshment, this time at the St-Marc Cafe where they don't understand the word "decaf" so I drink green tea and eat cro, "choco cro" in this case. I feel so Bohemian, sipping on my hot tea and munching chocolate goodies at a little cafe table.
5:00pm JST
Searching for usable WiFi hot spots and not having any luck.
5:35pm JST
Back to the Shinyogoku arcade to explore more dark alley ways and stores! This time, I found one of the Shinto shrines where rubbing the head of a bronze seated cow is supposed to bring you prosperity. I remark that I think the cow has a smile on his face, probably from all the rubbing. Alright, I'm leaving.
6:14pm JST
Walked into a beef bowl place on Kawamachi-dori and stuffed my face on curry beef, soft boiled egg and rice for only Y640. The proprietors at even the dingiest hole in the wall will treat you like the emperor because its all about serving the customer!
7:00pm JST
Stopping off at Family Mart for night time snack and Match, walk back to the Shijo-Kawamachi bus stop and I'm on the number 4 bus and back to the hotel in ten minutes. This time no mistakes!
8:00pm JST
Kicking back with Match vitamin drink, a choco eclair and the NHK drama "Sarutobi III" while the day's video and photography loads. I could get into this Edo period soap opera if only my language skills were better.