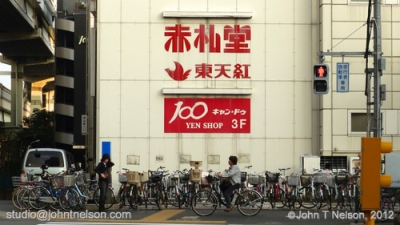 Today is my second birthday! Since I celebrated my first birthday a day early in Japan, now I get to celebrate my birthday in my home country's time zone!
Birthday celebrations will have to wait, though. First I have to pick up the keys to my Tokyo apartment, where I'll be staying for the next 30 days. The rental company, Sakura House, is located in Shinjuku so I start my apartment rental adventure with a subway ride from Monzen Nakachou to Shinjuku!
Looking at the Tokyo subway map, it seems the Oeda line is the most direct way to Shinjuku and the Oeda line station is conveniently located just down the street from the hotel where I'm currently staying. After a 20 minute subway ride, I arrive at Shinjuku Station and take the Nishi-Shinjuku exit, which opens up at the main intersection where several pachinko parlors are located. I remember well the way to Sakura House's offices from here, just an easy 15 minute walk down the street passed many familiar sights including the KFC…
Note of interest: The Odakyu line station is also located in Shinjuku. Odakyu owns and operates the train line, hotels and other facilities in the Hakone region, a resort area that my friend Andrew and I are planning to visit. Picked up several brochures, these could come in handy when making travel plans.
Arriving at the offices of Sakura House, I fill out the necessary paper work, pay for a full month's rent in advance and pick up the keys. Sakura House has a mailing list, blog site and Facebook page which will keep me in the loop with such activities as DesignFest 2012, held at Tokyo Big Sight in Daiba, this November.
A quick subway ride back to Monzen Nakachou and I'm settling into my Sakura House apartment for the second time. I find living in a long-term stay apartment like this to be more convenient, cost effective and roomier than a hotel room. After unpacking and settling in, I relax and find this particular apartment to be cosy, tidy, clean and with enough room for my computer, photo gear and clothes.
Very pleased.
But move in day isn't over yet, I still need some essentials like a towel, soap, shampoo, laundry soap, recycling bags, etc. In 2007, I bought a few inexpensive towels at the local Sunkus but this time I found two excellent hotel towels on sale and a pack of recycling bags at the 100 Yen Store above Akafudado. Grocery shopping is a joy at Akafudado where I also found chocolate cream filled pastries with enough calories to fell a bull elephant in mid stride 🙂
I have my second birthday dinner at Matsuya, a chain of gyudon/noodle restaurants, similar to Yoshinora where I had dinner on my first birthday.
No cake on my birthday? Instead, I'm enjoying a cream filled chocolate pastry while watching Japanese baseball in HiDef, courtesy of Tokyo Sky Tree! Tonight's game between the Yomiuri Giants and the Chunichi Dragons determines the Central League winner and who will play the Pacific League for the Japanese World Series! The Giants win!
This is a fine and auspicious way to begin my stay in Tokyo and celebrate my birthday…