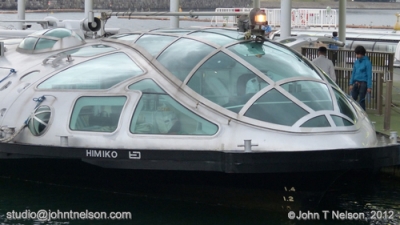 Today's random throw of the dice says "Kiyosumi Garden" a few blocks north of the apartment. I had visited Kiyosumi Garden on my first trip to Japan in 2007 and found it to be all around lovely, and full of natural and designed wonders, living in harmony with each other. There's even a monument to Bashou, the preeminent Japanese poet. Andrew, a friend also staying in Japan, has never been to Kiyosumi Garden, so this is a good opportunity for him.
9:30am JST
Andrew and I decide to first tank up at the Mister Donut, next to the Tokyo Metro Oeda line station. We won't need the Metro on this trip because Kiyosumi Garden is a moderate walk of several blocks. Here is another thing in Japan that hasn't changed a bit since I was here five years ago, and the garden is just as beautiful as ever.
We circle the lake as a cold front turns the sunny sky into intermittent showers and storm clouds, but this just provides additional photo opportunities. Andrew consciensciously brought special DSLR rain bags to shroud our cameras during storms, and we need them too! I just wish I had brought an umbrella, but those are easily obtained at every local conbini and kusuriya.
And as suddenly as the showers come, they're gone…
1:00pm JST
Next on our list of things to do: visit Tsukushima, a reclaimed land island where the Sumidagawa meets Tokyo Harbor. Tsukushima is known for a dish similar to Omeyomiyaki called Monjayaki…
http://en.wikipedia.org/wiki/Tsukishima
We grab an Oeda line train at Kiyosumi-Shirakawa Station, very close to the Kiyosumi Garden and take the idea line two stops to Tsukushima. From Tuskushima we walk to the shopping arcade where neighborhood shops serve up piping hot Manjayaki…
http://en.wikipedia.org/wiki/Monjayaki
1:30pm JST
We're both hungry from all of this walking, so we stop at a Manjayaki restaurant for lunch, ordering two servings of Manjayaki, one with mostly vegetables and the other with pork, shrimp, squid and octopus. We watch as the waiter prepares the first serving, and then Andrew and I take turns preparing the second. Its pretty straightforward: you first squirt some vegetable oil on a hot plate and then pour the vegetables and meat onto the hot plate to cook. Then you pour a batter/sauce onto the "fixin's" being careful to mix everything together into an even consistency with a pair of large spatulas. Let the Manjayaki cook until its nice and gooey and caramelized, I prefer to let the bottom cook until its nice a brown and most of the liquid has boiled away.
The Manjayaki is then eaten directly from the grill with small personal spatulas. Its a fun and very social food.
After lunch, we continue towards the park until we arrive back at the Tuskushima subway station, but the weather looks threatening so we continue on to our next adventure: paying a visit to Odaiba!
3:00pm JST
This time we take the Oeda line to Shiadome where we pick up the "Yurikamome" driverless, automated, elevated train which takes us passed many familiar Odaiba landmarks including a spectacular view of the Rainbow Bridge. While in Shiodome we find a fantastic vantage point to photograph the Shinkansen and an amazing clock built by sculptor Shachimaru Kunio who also built the giant Laputa robot on the rooftop of the Ghibli museum. The Shinadome clock was obviously inspired by Myazaki.
There's much more to Shiodome too so we shall return at a later date.
3:41pm JST
We arrive at the Daiba stop on the Yurikamome line, right next to the Joypolus entertainment complex. Yes it really is called Joypolus. Its a short walk to the beach and the boardwalk, passed modern art and soaring skyscrapers. Along the boardwalk we pass by Joypolus, Aqua City and the River Cruise Water-Bus terminal. Besides the traditional water-buses we got an up close look at the futuristic water-boats designed by manga artist Leiji Matsumoto…
http://en.wikipedia.org/wiki/Leiji_Matsumoto
4:30pm JST
And The Statue of Liberty. Yes, The Statue of Liberty, or rather a replica of one of the original models in France. At any rate, its pretty cool. There is one subtle but obvious difference between the statue in New York Harbor and the replica in Japan… the full size version in New York faces the sea to welcome immigrants, the replica in Japan faces towards the city.
It begins to rain again and we seek shelter about ten feet from Liberty, under an elevated platform. Fortunate for us and our expensive cameras.
5:00pm JST
The rain is becoming more intense so we seek shelter in Aqua City and the warmth of hot coffee and pastries at Starbucks. This is one of the nicest Starbucks I've ever been in too. Its odd too because I'm sitting in a Starbucks, listening to R&B hits from the 70's and sipping a typically American drink while enjoying a WARM cinnamon bun…. in Japan.
The Japanese do enjoy their creature comforts and I harbor no ill-will towards them for that. The ability to enjoy an afternoon (or a rainy evening) over a hot drink, good food and a good book is a very civilized pastime.
6:17pm JST
It turns out that this Starbucks is also a great vantage point for photographing Liberty, Tokyo Tower and the Rainbow Bridge. The sun has set, giving us some perfect night time views for photography.
6:45pm JST
Time to head back to the Yurikamome line. The wind is becoming ferocious and I wonder if another cold front is coming, along with more rain storms.
7:30pm JST
Before returning to the apartment, I stop off at one of the local kusuriya to pick up toilet paper, paper towels, laundry detergent, body soap, mouth wash, calcium, vitamins and snacks. Vitamins are expensive in Japan. And true to form, it begins to rain heavily on the walk back to the apartment. Well it could be worse, could be raining… oh wait.
I may have to buy an inexpensive conbini umbrella if this persists.
8:30pm JST
Finally, relaxing after a full day of exploration, photography and videography.