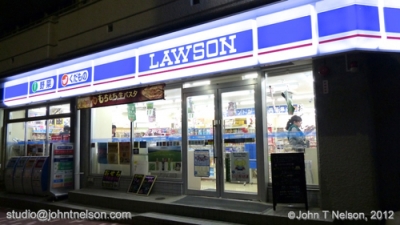 5:30pm JST
Time to prowl the old neighborhood in search of dinner. In the case of Monzen Nakachou, we're talking Edo period old. The first change I notice is the new lawn ornament looming brightly over the Mifune Bashi Bridge: Tokyo Sky Tree towering in the distance and looking magnificent all lit up at night! I'll bet they rack up quite the electric bill.
Little has changed in Monzen Nakachou in the past five years, although there are now two Lawson's on Eitai-dori and one of them has actual groceries. There's a Yoshinori on the corner across from the Star Dust and I had beef curry and rice with egg there tonight. Their take-out window rather livens the street up a bit at night too.
Mos Burger, Freshness Burger, Mister Donut and McDonalds are still right where I left them.
Bought vitamins at the kusuriya, across the street from Akifudado and stopped off at Family Mart for an incredibly evil chocolate and cream filled eclair. Wrapped up my walkies with a visit to the 7-Eleven.
There's a cool breeze picking up like a storm on the seaside as I walk back to the hotel with my conbini treasures. This is very pleasant…
6:47pm JST
Just realized that, unless you like Pachinko, there's really crap loads of nothing to do in Monzen Nakachou at night!
7:00pm JST
Finally, I'm hunkering down with that scary cream filled chocolate thing, a blackcurrant, raspberry and acerola drink, laundry and an NHK television program about Japanese steampunk and costuming! Here's an artisan who creates beautiful art objects and jewelry with a steampunk flair, out of used tin cans.
1:30am JST
Laundry is finished and now it's time for bed!