Today I plan to spend a relaxed day in Akihabara, Japan's Grand Central for fans of anime, comic books, doujinshi, maid cafe's, electronics DIYers and buyers of geeky hipster consumer goods.
11:00am JST
First stop is a late breakfast / early lunch at one of the many noodle shops along the Eitai Dori. Today Andrew suggests a new place where I have the pork ramen, yum. Not the best noodles I've ever had but for Y390, its an excellent and hearty breakfast.
For today's journey into mid town Tokyo we have also decided to visit an old friend, Etchujima Station on the JR system. Five years ago when we had JR Passes, we hoofed it to Etchujima to squeeze every yen out of what amounted to "free" rail travel. This time, we passed a restaurant called "Pepper Lunch" which serves grilled spicy steak and "hamburg" dinner and lunch plates. This looks like a great place for dinner tonight!
11:45am JST
Etchujima Station, hasn't changed in five years. Instead of a JR Pass, I'm waiving a new Suicca card through the turnstile. I must say that Suicca and PASMO make train travel so much easier than having to wait at a ticket machine, figure out the fare, buy individual tickets, rinse and repeat… you can even use Suicca and PASMA to purchase goods from vending machines.
Tokyo Station is only two stops down on the JR Keiyo line, and both Andrew and I know instinctively how to get to the main platforms and the Yamanote Loop. Yes, we've ridden JR that much. Little has changed except some new shops that have been added along the way. They now call the hallway that leads to the Keiyo line platform: "Keiyo", originally enough.
We make our way through the dense crowds of Tokyo Station, to platform 4 and wait just a few minutes for the Yamanote line train, North and counterclockwise to Akihabara. The Yamanote Loop is elevated in Akihabara so we have to make our way from the platform down to the street and exit the station… but something doesn't look right. The Radio Kaikan building is gone. Kotobokiya has moved out of the adjacent building which now has been converted into an AKB48 "pachinko and slots" parlor.
I'm devastated… but that's Japan, always changing and always the same.
1:00pm JST
After exploration of the local area we break for lunch at Vie De France. I have a chocolate croissant which tastes like it was dipped in butter and chocolate (not a bad thing) and a soft bun filled with clotted cream and azuka bean paste.
Yum!
1:45pm JST
The shopping begins… at Yodabashi Camera! Five years ago, I first set foot in a Yodabashi Camera in this store in Akiba, when I was forced to seek shelter in a rain storm, and here I discovered a store full of wonders: electronics, toys, cameras, lenses, printers, air conditioners, souvenirs and attentive, efficient staff.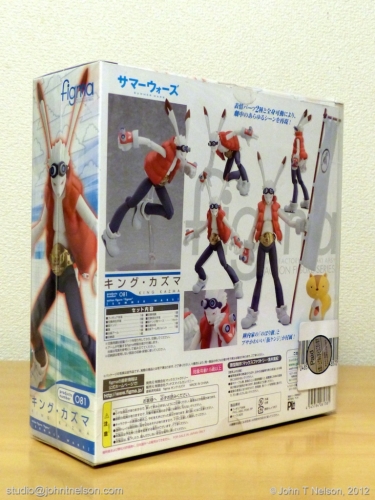 3:45pm JST
After a couple hours of successful shopping at Yodobashi Camera, we head down the street to "Hobby Off" a hobby store run by the "Garage Off," "Book Off," etc, chain of stores. THey have lots of anime and game character figures so just on the last minute I ask the guy behind the counter if they have any King Kazma figures from the movie Summer Wars, and he replies "Yes"… reaches behind the counter and pulls out a boxed version 1 King Kazma! This is unbelievable and, after much wrangling with our respective languages, I understand that this is the only King Kazma that they have. Frankly its probably the only King Kazma I'll ever find, much less so conveniently.
And so the figure that I've been searching for just ends up being handed to me on a silver platter (and for a reasonable price).
4:30pm JST
Further down main street in Akiba we duck into Liberty Hobby, another hobby store that I frequented five years ago. They too have a King Kazma version 1, but for Y1500 more. Right next to King Kazma they also have a Love Machine figure from the same movie, Summer Wars. Love Machine isn't quite as desirable but no less collectible.
So easily within an hour, I have scored two figures on the top of my shopping list!
6:00pm JST
The sun has set and we;re ready to call it a day so it's back to Tokyo Station and the Keiyo line to Etchukima Station. This is actually a tricky line to deal with, if you take the Rapid Express from here, you can blow straight passed Etchujima and waste a lot of time getting turned about. Etchukima Station is less than 30 minutes from this platform, the problem is that this platform is the final station on the Keiyo line so you wait a good half an hour before the train even leaves the platform.
6:30pm JST
It's a quick half an hour ride from Tokyo Station to Etchujima Station and short walk to that steak place we saw on the way out. Spicy, sizzling grilled steak and the obligatory bowl of rice! Man that is good steak and reasonably priced too! I pick up a chocolate chip bun from one of the local pastry places and a Match vitamin water and I'm ready to relax for the evening. These chocolate chip pastries are great after nuking the chocolate chips in a microwave!
8:44pm JST
Settling in to an evening of baseball and anime, including a playoff game between the Yomiuri Guants vs Hokaido Nippon Ham-Fighters…